What is a Child Advocacy Center?
When police or child protective services believe a child is being abused, the child may be brought to a Child Advocacy Center (CAC) - a safe, child-focused environment - by a caregiver or other "safe" adult.  A Child Advocacy Center is a place where a child can tell their story once to a trained interviewer who knows the right questions to ask in a way that does not not re-traumatize the child.  Idaho CACs currently use the NICHD model of forensic interviewing.  Then, a team that may include medical professionals, law enforcement, mental health, prosecution, child protective services, victim advocacy, and other professionals make decisions together about how to help the child based on the interview.  CACs may offer therapy and medical exams, plus courtroom preparation, victim advocacy, case management, and other services. 
The Idaho Network of Children's Advocacy Centers assists CAC's and developing centers in meeting Idaho Statute, national standards,. and best practices.
Idaho Statute 16-1602(11) defines a Child Advocacy Center, or CAC, as "an organization that adheres to national best practice standards established by the national membership and accrediting body for children's advocacy centers and that promotes a comprehensive and coordinated multidisciplinary team response to allegations of child abuse by maintaining a child-friendly facility at which appropriate services are provided. These services may include forensic interviews, forensic medical examinations, mental health services and other related victim services."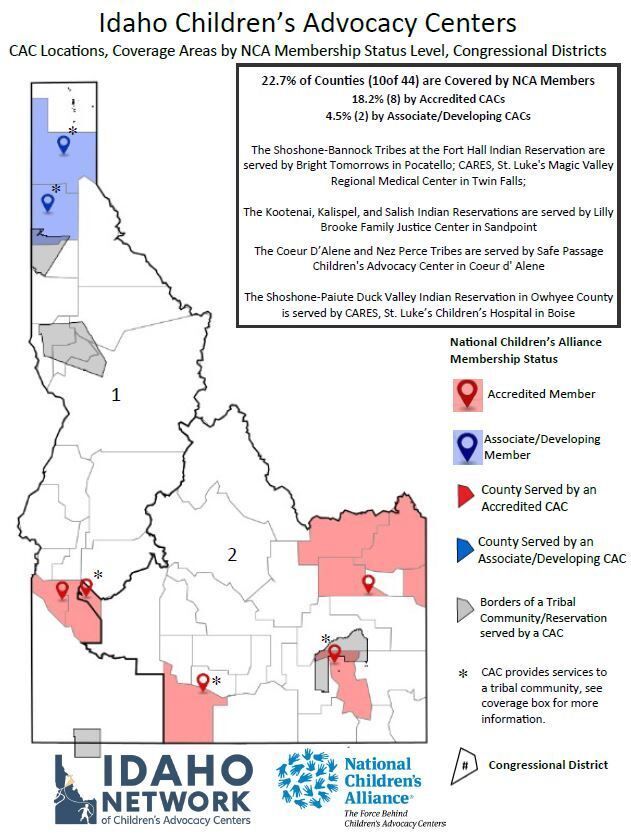 Accredited and Associate Child Advocacy Centers are those centers which have demonstrated their ability to meet, or exceed, national standards, as determined by the National Children's Advocacy Center (NCA). 
The following Centers are members of INCAC and NCA:
St. Luke's CARES Boise; St. Luke's CARES Magic Valley; Bright Tomorrows Child Advocacy Center; Nampa Family Justice Center; Upper Valley Child Advocacy Center, Safe Passage Child Advocacy Center, and LillyBrooke Family Justice Center.
---
Accredited Children's Advocacy Centers
Associate Member Children's Advocacy Centers
Developing Children's Advocacy Center Members
1050 Memorial Drive
Idaho Falls, ID 83402
208-529-4352